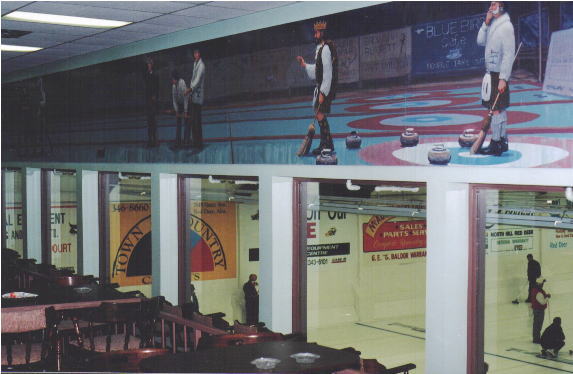 The Black Bonspiel of Willie MacCrimmon,
The Last End.
Size: 4ft. x 54ft.
Location: The Red Deer Curling Rink upper lounge, Red Deer, Alberta.
Client: The Lampard family of Red Deer.
Surface: Plywood (Crezon) panels.


The Black Bonspiel of Willie MacCrimmon 2,
The Last End
is the second of two murals commissioned for
the Red Deer Curling Rink .
The subject of the murals is from the W.O. Mitchell story of the same name, well known on the prairies, particularly among curling enthusiasts.


The story concerns a curling game between a team skipped by Willie MacCrimmon from a small prairie town
and the Devil's team from hell including
Judas Iscariot at lead, Guy Fawkes 2nd,
MacBeth 3rd, and the devil (Old Cloutie) skipping.


The stakes are The Canadian championship on the one hand
and Willie MacCrimmon's soul on the other.